4 Ways To Springify Your Home
Happy Spring! Here in Colorado, we get to experience all sorts of weather during this time of year. Sometimes, it snows. Other times( like tomorrow!) I get to drive around in my sassy red convertible with the top down. As you adjust
to the coming summer and warms, it's important to make your home feel spring-time too!

First, Let's plan a garden.

There are some
great apps
out there to help you remember when to plant, water, and pick everything. Some plants that grow GREAT here include:
Purple Prairie Clover:
Irises:
Red Poppy
A late Spring bloomer, this beauty is sure to catch the eye. You can also get them up at Long's.
Ok, on to Fruits and Veggies:
The Three Sisters is an old Native American way of planting corn(maize), squash/pumpkin, and beans.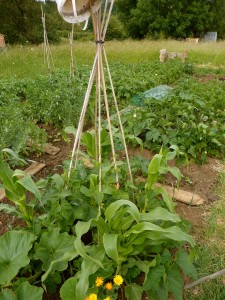 You can read more about it
here
) but basically it's sustainable farming methods that allows you to plant the same crops year after year.
Apples/pears/crabapples:
While pretty much all fruit trees take a few years to come off the ground, eating fruit off your own tree is a pretty magnificent experience.
TOMATOES!
seriously, i don't actually buy store bought tomatoes anymore, if i can't have the homegrown heirloom tomatoes, what's the point? Brandywine is my favorite.
You can find out more about Colorado Gardening at :
http://frontrangefoodgardener.blogspot.com/
http://coloradomountaingardener.blogspot.com/
Don't have space to garden? How about a few
air-clarifying
herbs inside? or some
paper flowers
?
OK, next:( 2) Put away the winter blankets and dressings
We may have one winter storm left( it is Denver, after all) but i can pretty much promise that it's not going to be as cold, or as long, as in January. We can Put away the heavy winter jackets, thick fleece blankets, and the flannel. Oh, god, please, get rid of the flannel. Replace with cotton blankets, down beddings, and general 'lighter' things. Bring in the brighter colors as well, out with the hunter greens and the heavy maroons, get rid of the valentines day crap you still have left out on your table and warm up to spring.
Flowers;
bright, airy patterns. While you're at it, clean your windows. Snow streaks and you want to be able to enjoy your new garden, right?
(3) Go Through Your Closets
Have you worn it in the last year? Will you wear it in the next? Does it hold sentimental value? if you answered no to all those questions, the item in question needs to go. Shalom. IF you want help organizing your closets, check out this
blog
.
(4) Deep Clean Your Carpets


It'll be gross. There will be snow, mud, and a fair amount of dirt tracked in from the winter, but it'll be worth it. Your carpets will love you for it. You will love you for it.